Customers are important and we all know that. Taking care of them, retaining and supporting them is incredibly essential to sustain business growth. If you want to be successful and aspire to earn greater revenues, then you should concentrate on how to retain your customers. In other words, we will focus on the topic "Customer retention" and understand why is it so important.
Defining Customer Retention:
Customer retention is the ability of a business enterprise to retain/ keep hold of its existing set of customers. The practices and activities that a company undertakes to sustain its customers and not letting them go is what retention is. In other words, reducing customer churn and deflection is often what says it all. The initiatives usually taken by a company consist of brand loyalty programs. These programs are interactive and aim to attract customer eyes on a constant basis. The results are often loyal customers/ free brand ambassadors.
The process of retaining customers usually should begin on the very first day when a customer comes in. Companies should always aim to connect with customers in the first go. Maintaining the same through the entire relationship will help companies to effectively retain them.
This ability to retain customers is important for every business. Reason being it's hard to get new customers again and again. Plus, the process of acquiring new ones is expensive too.
Note: Retaining customers is very much different from the process of acquiring new customers or lead generation. Customer retention happens when the customers have already been converted into a sale once.
Why Retaining customers is important?
Majority of the business enterprises will choose to spend more budgets on customer acquisition. Reason being, the process of acquisition is often looked as a quicker and effective method of luring customers to make a sale. They often spend huge budgets on target advertisements which are focussed to bring new customers. This is an expensive process and also need great expertise to target the right set of audience.
What business enterprises don't understand is that spending huge budgets on new customers isn't the most feasible option. Acquiring new customer is 7 times more expensive than retaining the present set. Maintain a good relationship with customers who are already converted is a more affordable and better option. Firstly, you don't have to spend huge advertisement budgets on them. Secondly, you don't need to educate them again as they are already using your products/services. This definitely is a better option.
Benefits of Customer retention:
The present day customer has an enormous amount of options and varieties to choose from. If your customers aren't satisfied with the quality and price of your services, he wouldn't take much time for the shift. The competitor market is huge and everyone here knows ways to lure customers in.
According to the study undertaken by Adobe, a 1% increase in the retention rate will lead to a substantial increase of 10% in the total revenue.
The numbers clearly state the importance of customer retention. Let's bring some light on the clear benefits that business enterprises can get by maintaining good customer relationships.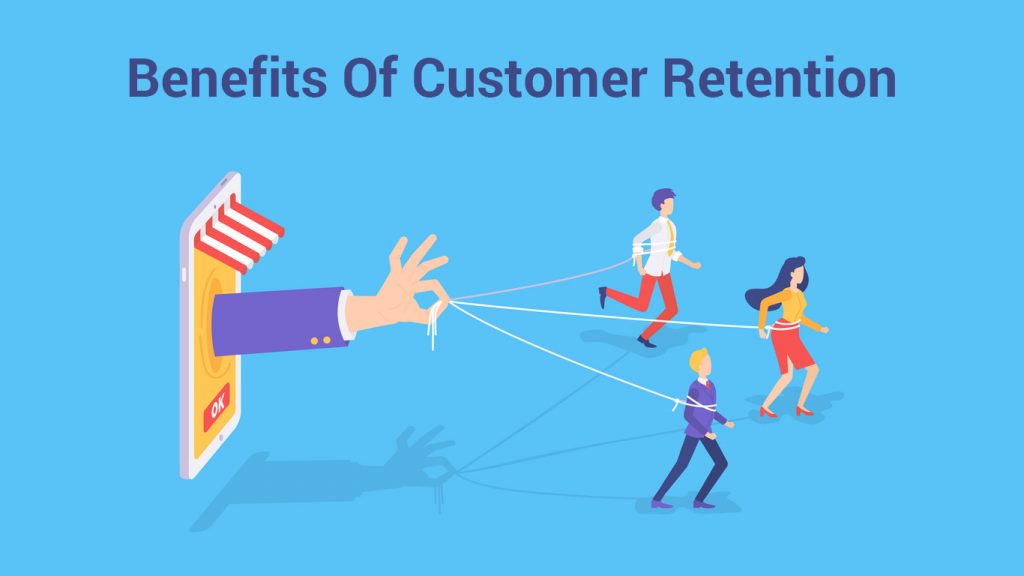 Customer loyalty:
Well, if your customers find your products and services worthy and beneficial to them, then they will stay with you. Another great factor is how you deal with them a.k.a how is your customer service. If they find everything perfectly fine that fits according to their needs and requirements, they will stay loyal to you. So for brands who maintain healthy relationships with their customers throughout their customer journey often get loyal customers as a result. Moreover, companies get free brand ambassadors who will speak positively to others after their positive experiences. Positive brand speakers is a priceless possession. Word of mouth publicity increase brand awareness for free and get you a lot of new customers without spending a penny on them.
So your brand benefits indirectly with a loyal customer and a free brand ambassador.
Increased Revenue:
Well, this one's is kind of obvious and a major factor too. You as a business entrepreneur don't need to spend budgets on acquiring new customers. You already have healthy customer relationships, so your existing set of customers always continue to stick with you. They don't need to be educated again and again unlike new customers as there is a trust factor already present.
So when you spend fewer budgets on acquiring new customers, you save more. Not that acquiring new customers is a bad thing but then the cost incurred on it can be reduced to a great amount when there are repeat customers. Indeed the cost is more in case of acquiring. For someone who wants to expand his customer horizon can definitely choose to target ads for new customers. But this doesn't take away the attention from the retaining present customers.
Retaining customers will allow you to stay ahead, increase sales bandwidth and sales opportunities too. Indirectly resulting in more revenue.
Increased Average order value(AOV)
If your customers find your products and services better and life-changing for them, then they will stick with you. They will always choose your brand time after time and make repeat purchases often. Since the customer satisfaction ratio tends to high in such situations, customers becomes loyal.
Not only retaining existing customer is cost-efficient strategy to maintain but it proves to increase a AOV. The customer will be willing to spend more each times going forward when they receive satisfaction and lucrative offers.
As per the number, 23% of loyal customers will likely spend more and increase their AOV when compared to a average/new customer.
Conclusion:
Well, every fact and figure mentioned above clearly states how valuable customers are. They tell us how essential is it to maintain healthy relationships with your customer and increase their brand loyalty. Customer retention is a detailed process of understanding your customers, solving their problems and initiating a better relationship with them. You solve their problem areas, surprise them with great offers and deals, delight them with your service and motivate them to stay together.
But this process is slow and steady. It won't happen overnight. It takes its own sweet time. All you need is a great strategy, winning deals for your customers, efficient after-sales service and a zeal to keep your customer relationship intact. Then only, you as a business enterprise will be able to extract maximum value from your existing set of potential customers.
This is all you have. They are your biggest assets. You take care of them and in return they benefit you.